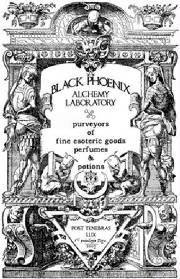 Click Here!
You are dressed in your gothic best, yet something is amiss. Could it be that Love's Baby Soft or that lemony sports scent aftershave just aren't expressing the essence of your tenebrous soul? Mistress found a divine website to accent your gothic presence with aplomb. Introducing
BLACK PHEONIX ALCHEMY LAB
! They have literally hundreds of unusual and original scents and oils to fit every mood and occassion. Fragrances such as Banshee, Sepulcher and Lucy's Kiss are sure to delight your senses! You must visit them to believe how exciting this site is. Be sure to check them out!
Click here to get all the GOREY details!
Artwork courtesy of www.goreydetails.net
The late Edward Gorey was an artistic genius, lending his unique tenebrous artwork to mainstream media. Chances are you have seen Gorey's handywork countless times and never knew it. In turn, he has inspired an entire generation of mad for macabre artists who carry on the Gorey traditions of details and subtle disturbances. Explore his official website, shop, and enjoy this beloved master of the bizarre!
I love this site! Pushin' Daisies dubs themselves a "mortuary novelty shop". They have the most fascinating and ecclectic merchandise I have ever seen! Where else could you find a chocolate casket, coffin luggage, skull bandages, tombstone soaps, Six Feet Under DVDs, reaper T-shirts, hearse cufflinks and Egyptian collectibles all in one place?! They even have a chat board called "Coffin Talk" to connect with other TENEBROUS minded individuals. Take time to surf their entire shop - you'll be amazed with what you find!
Click the flag to find a wealth of booty!
Who can resist a pirate?! Why "
Captain Jack Sparrow
" is enough to make any young wench swoon and shiver Mistress' timbers! If you love pirates or know someone who does, we have surfed the seven seas and found a booty of great sites to explore and shop! Become savvy about pirate history on "
Pirate's Realm
". Shop like a prirate at "
Dead Men Tell No Tales
" and "
The Pirate Soul
". Dress like a pirate with "
The Pirate Store
" and "
The Leather Works
". Still not enough for you scurvey dogs and scalliwags? Then be sure to stop by and visit the world famous "
Sailor Jerry
" with his legendary tattoo work and gift shop treasures. If ye be a landlubber after this, then ye be forced to walk the plank!
Art courtesy of http://eireen.deviantart.com/
This Creature Feature is dedicated to the Memento Mori - precious treasures that remind us of the inescapable.
With a sudden rise in the popularity of a more romantic vampire icon (blame Twilight and True Blood), the awareness and demand for Memento Mori and Victorian Mourning Jewelry is flooding the fashion industry. These morbid and often ornate trinkets can add the perfect Gothic statement to any outfit. Originally designed to be worn as part of a grieving wardrobe, brooches, rings, lockets and tear catchers have a certain flair and uniqueness that makes them true works of wearable art. MEMENTO MORI, Earthly Adornments, Laurelle Limited, Time Dances By andTear Drop Memories are great online antique shops where you can view and purchase authentic pieces. I will warn you in advance, these items are very rare and quite costly. To shop vintage goth jewelry can seem like buying a diamond fromTiffany's. Lay-aways and payment plans are negotiable at some of the above mentioned. Your local antique shops, Ebay.com as well as better flea markets and estate sales are also great places to treasure hunt for these rarities. But, if you are like me and want the style without the major investment, there are tons of amazing artists who are inspired by Memento Mori. Absolutely check out Alchemy Gothic Jewelry! Making creations since 1977, this British pewter-crafter has stunning and affordable designs with friendly prices. What makes their pieces extra desirable is the fact that they become collectible over time. Mistress is especially fond of the Requiem Tryptich Coffin locket. Obscuria and Gorey Details are Tenebrous Magazine favorites to visit for official Alchemy. There is an amazing assortment of goods on Etsy these days! Gorgeous and unique, hand-made creations make fabulous finds on a budget. TARTX and No Monet feature vintage art with modern interpretation. Fascinating dark-themed accessories and baubles made with clip art, bottle caps and watch parts seem to have a soul of their own and a haunting story to share.
Memento Mori isn't just defined through jewelry. It is a movement that has elements in art, fashion and literature too. Although the morbidity level was a bit too high for Mistress' approval, it should be mentioned that photography of the recently deceased was very popular in the Victorian era. You will no doubt encounter this in antique shops while hunting mourning items. Often, the only image a family had of their loved one was a post-mortem portrait. Locks of hair carefully preserved in frames as well as human ash stored in tiny vials are all common souvenirs of the departed. Taxidermy of beloved family pets, resin castings and skulls are classic Memento Mori. Widow's weeds (from the old English word waed, which means garment), black ribbons, black lace edged hankies, black rosaries and black parasols are Victorian mourning traditions that are tenebrous style staples today.
Still don't feel morbid enough? Mistress had a few recommendations to inform and inspire you. "Walking The Twilight Path" written by Michelle Belanger is an incredible read for anyone seeking a better understanding of death. The book covers the history, practices and spirituality of mortality with dignity, grace and awe. If you need guidance and path working to aid in grief or just looking for Memento Mori themed cartomancy, The Graven Images Oracle and the Bohemian Gothic Tarot are both award winning divination tools worth checking out. Both utilize beautiful and unusual imagery that is perfect for tenebrous hearts.
Finally, in parting, if all this Memento Mori hasn't sated your Gothic soul, then try speaking with the dead directly. Although spirit communication is an extensive and controversial subject, Mistress suggests visiting The Enchanted World Of Amy Zerner & Monte Farber before you embark on your quest. These metaphysical experts have created safe, reliable, self-explorative tools to help heal, entertain and enlighten you. Their spirit communication boards go way beyond the typical Ouija to promote positive experiences with the mystery of life after death. Mistress wanted to be sure you checked out their Spirit Of The Ancestors Alter Kit (link and photo below) as the perfect modern Memento Mori.
Presenting Suz Winspear, the lovely Gothic writer from Worcester, England. Known for her poetry and Gothic Monolgues, which she frequently performs live throughout Worcestershire and the West Midlands.
You may find poetry by Suz in our Poetry Parlour and her brilliant prose in our Athenaeum.
Click the photo above to visit Suz's feature in our Sanctuary!
Well, Vamps and Ghouls, it is almost the bloodiest and most dreaded of days ...
Saint Valentine's Day
! This February 14th could bring a deep sense of haunting romance and a warm "squish" to your senses. Mistress has searched and found some celebratory items sure to keep the unworthy away and draw the attention of that special mate your precious tenebrous heart truly deserves. Baubles are always traditional tokens of affection, so when darker tastes dictate try
Paraphernalia
,
Raven Eve
and
Loved To Death
adornments to enchant your beloved. For the allure of eternal beauty, Mistress has found a new delight in
Morbid Mists
fragrance line and the "
Twilight
" inspired
Volturi
cosmetics. She especially loves the
Twilight Lip Venom
- it looks like a vial of blood and gives your lips a sexy "bitten" look. For the Valentine that needs to cuddle in the darkness, Mistress suggests plushies from
Emily Strange
and
Teddy Scares
. Emily's "Wolf Kitty" is especially adorable! Finally, to seal the deal, present your true love with the essential Valentine candy, a chocolate heart - anatomical of course - courtesy of
Blue Lips
!
Click Here For Candy!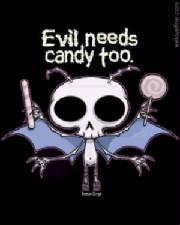 Artwork By Roman Dirge
Get dark themed treats such as ghost peeps, gummy mummies and chocolate vampire slayer candy bars all year round here! Click the "Tummy Monster" to check it out.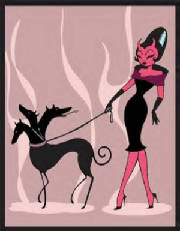 Click here to shop with A,V, Phibes!
A. V. Phibes
is a compelling cartoonist with a real wit and edge. This site is a playground for folks who just can't help being a little twisted. You'll find free dowloads, cute little gifts and lots of fun stuff that will give your dark self the giggles!
Click here to shop Thee Basket Bootique!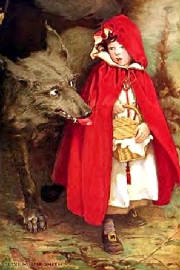 Artwork By Jessie Wilcox Smith
The was a reason why that wolf wanted Lil' Red Riding Hood's basket of goodies - chances are she was carrying a custom made gift to Granny from
Thee Basket Bootique
! I found this great little shop while surfing
gothauctions.com
! All I can say is WOW! They have the neatest ideas for tenebrous gifting tastes and a basket to celebrate every possible occasion. Stuck on what to get the ghoul in your life? Check this site out!
My Sister went to Salem Mass. recently and brought back the coolest T-shirt for me as a souvenir. The label led me to the creator's website, "DARK SIDE INK". What an awesome find! They design some of the most unusual T-shirts that will definitely start up conversation. They also offer a line of very interesting hand poured candles they call "DARKNESS FALLS". Mistress adored their moto, "Everyone has a Dark Side!" ~ be sure to check them out!
Everyone wishes for a fairy tale life with happy endings and wishes fulfilled, but did you know those endearing childhood fables Walt Disney depicted were actually horror stories? Tales so dark & sinister, that read before bedtime, guaranteed terror and nightmares! For example, the pulchritudinous Sleeping Beauty, rosebud lips poised for true love's kiss to break the spell, was actually found as a one hundred year old cadaver, rotted flesh and all. It made it a true act of heroism for the prince to kiss the decaying corpse. Can you imagine the bloodied condition of Cinderella's feet after running in glass slippers? Think of the carnage in Grandma's cottage after the woodsman rescued her and Little Red Riding Hood. She likely was scrubbing wolf guts off the ceiling for a week! This Creature Feature is dedicated to the tenebrous side of beloved fairy tales.
I recommend that you get all the facts straight about those lovely apologues you thought you knew by reading one of the actual unedited versions of The Brothers Grimm agglomeration. Mistress loves Grimm's Grimmest for a truly frightening experience. Author, Bob Curran wrote a tremendous collection of books exploring every possible fairy tale creature known. Curran works with an amazing artist, Ian Daniels, who's illustrations absolutely thrill the imagination. If you want to manifest your own fairy tale, Kenny Klein's book, Fairy Tale Rituals, unveils fanciful secrets and instructs how to perform authentic magic spells inspired by your favorite stories. The Fairytale Tarot by Irena Triskova and Alex Ukolovby features tenebrous artwork from some of the lesser known Eastern European traditions. The deck makes a great path working tool for a unique divinatory experience.
Want to become a fairy tale Gothic prince or princess? There are places all over the web to sate your fantasy! These are just a few Mistress has shopped: The Tudor Shoppe, The Historical Clothing Realm, The Dark Angel and Holy Clothing. Lime Crime cosmetics can deliver fairy dust color and enchanted kiss lips. Rapunzel will envy your locks with a little help from Cosplay Wigs USA. Top off your ensemble with Disney Couture accessories. This stuff isn't intended for kids with luxury label quality and dark minded design details. Mistress lusted for their poisoned apple ring.
Hollywood has been crushing on tenebrous fairy tales recently. There is a lot of hype surrounding Kristen Stewart's portrayal of Snow White. Due out June 2012, it promises to paint a shadowy adventure of evil and deceit. A recent film interpretation of Sarah Blakey-Cartwright's book "Red Riding Hood" made the big bad wolf even more terrifying than usual. Other fairy tale films to explore on DVD that might make your heart beat faster are: The Company Of Wolves, Snow White A Tale Of Terror and Pan's Labyrinth.
Passed down through the generations, fairy tales were surely created to teach and inspire us that against all obstacles, one will survive. Life can be a dark journey, as we tenebrous souls all know. Within the ebon forest, where killer wolves, smoldering dragons, foreboding towers and truculent witches dwell, find your emulous protagonist inside and venture on till magic finds you. After all, there's no need to be afraid of the dark!
2009 marked the bicentennial of Edgar Allan Poe's birth (January 19, 1809 – October 7, 1849). A brilliant and misunderstood man, Poe gave us some of the most definitive, macabre literature ever written in his short life. His works have inspired countless artists for the past two centuries. In honor of this special occasion,
Gothic Alchemy
has issued some exquisite commemorative jewelry. Be sure to
check it out!
Also, stop by the
http://www.poemuseum.org/
for a run down on the festivities still to come. The
http://www.houseofusher.net/
is an incredible source of works and information to keep you up all night. If reading isn't your cup of tea, Mistress is especially fond of the 8 timeless Poe films created by the legendary director,
Roger Corman
. House of Usher, Pit and the Pendulum, Premature Burial, Tales of Terror, The Raven, The Haunted Palace, The Masque of the Red Death, and The Tomb of Ligeia can all be found on DVD at
Amazon.com
.
However you choose to celebrate
, be sure you do! Take a sip of
absinthe
, curl up in your favorite shadowy nook and let the master of horror drive you into a delightful depth of tenebrous madness!
Let Mistress help you add some excitement to your tenebrous existance by improving your social life while at the same time sating your fascination with blood! Whether you love Guro
Lolita style
, have surgical intrigue or adore gory horror films, Tenebrous has found blood spattered goodies everywhere! Worry not if you don't have a strong stomach, there is plenty of fun with cool & trendy stuff to explore. Try
VonErickson Laboratories
for unusual jewelry. They feature "Blood" and "Stitches" necklaces that look amazingly real. Find tiny brains and amazing, detailed, beating heart jewelry at
Monster Kookies
- each unique creation is a beautiful, wearable masterpiece! Grab a ghoulish tee from
Zombie Liquorice
or
Fright Rags
and top it off with a real lab coat from
Just Lab Coats
to create a mad scientist vibe. Get affordable Guro Lolita gear in sizes xs - plus at
Buy Costumes
. They even have great little accessories like fake blood, bandages and play surgical props.
The Fairy Society
has darling designer "Lolita" band aids to fix any broken dolly with flair. Check out Mistress' favorite, Bobbie Weiner's
"Bloody Mary Professional Hollywood Make-up"
to get the best cosmetics for your needs. Now that you have the look, its time to play! Invite your friends over, pick up a pizza, whip up a batch of
Blood Punch
and ... if you haven't seen
REPO! The Genetic Opera
yet, Honey, you
need
to testify! A rock opera/horror film that features the amazing
Sarah Brightman
as well as Paul Sorvino and Anthony Head is the brilliance of
Terrance Zdunich
and
Darren Smith
. A fun movie to share, you'll have a blast dressing up for it! If you can't find REPO! locally to buy (try
Borders
,
Best Buy
,
Wallmart
or
Target
), it is available on
NEXTFLIX
. Still haven't had enough bloody fun? Check out
Gothic Rose Antiques
. This is an amazing site with great treasures to view and buy. Mistress thought the antique medical devices were particularly interesting and creepy!