This month, we are featuring the gothic extreme - Angel Of Beauty"! To quote John Travolta in the movie, "Michael", we ain't talking about "that kind of angel ... ". Magical and athereal, this costume invokes a sexiness that is truly other worldly.
THE HAIR
When we think of Angels, long flowing silky locks come to mind. Get that look effortlessly with a good wig. Now, white or pale blonde invokes a heavenly image but don't let that narrow your view. Try a fun shade like lavender, blue or match your own color. Wigs can be found all over the net including good ol' EBAY. Mistress adores Tish & Snooky at Manic Panic. We found an awesome wig at Amphigory that comes in a zillion colors for $40.
THE CLOTHES
Our Angel gets her sexiness from her feminine corset. Achieve this look with a bridal corset. They come in a variety of prices and cinching styles. Our dolly is wearing what is commonly referred to as a "merry widow". We found gorgeous corsets at Bridal Corsets. If this site seems a bit lavishly priced for you, try Federicks Of Hollywood instead. We found great styles for around $40 - $80.
FINISHING TOUCHES
If you are going to be an Angel, the one must have is a pair of wings! We found the ultimate fantasy angel wings at PIERRE SILBER. Although a hefty $275, they are as close to the real thing as a living entity can get! For the budget minded seraphim, try online costume shops and fetch a pair for under $40.
Our makeup is glowing and delicate. Golden colors create an aura of gorgeousness. Mistress suggests YVES ROCHER 's Mandarine Series. Radiant cream eyeshadow duo in Mandarine Cuivree #64955, multi reflects lipstick in Golden Spark #55053 and Radiance face makeup #74205 are all formulated with sweet orange extract that will not only look good but are all good for your skin. Allergic to citrus? Try NYX Cosmetics! Mistress suggests eye shadow trio TS11 and Diamond Sparkle lipstick in DS12 Sparkling 24 Karet.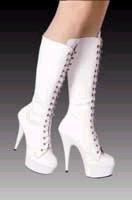 These boots are veggie lovin'. White vinyl lace ups, this particular style seemed to be widely available in prices from $55 and up. We found thigh highs for sale at The Spider's Web for $58. Get the super sexy stockings from your local bridal shop or for a wide selection, try STOCKINGIRL.COM. Mistress especially likes the thigh highs with a little bit of sheen to them. Victoriassecret.com also has great basic thigh highs in virginal white. Your purchase will set you back anywhere from $12 - $26 for a pair.