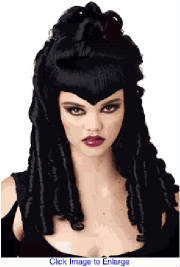 THE HAIR
We found a great wig at My Diva's Closet! But if you want something less vampy or would like more color choices, try Tish & Snooky at Manic Panic. They have a wig called the Baby Jane that you will adore! These wigs are $35 and $45 respectively.
THE DRESS
The Lolita look comes straight from the underground fashion trends of Japan and London. Dresses vary in quality and price but the style can be achieved quite affordably from HOT TOPIC or TORRID. If you want something a but more exotic try LIPSERVICE of London, Delirium Clothing, Metamorphose of Japan or Rose and Thorn. Expect to pay anywhere from $75 - $300 for your frock.
FINISHING TOUCHES

To put the look all together, you need great accessories and makeup. Mistress' suggests exploring the realm of STARGAZER for your Lolita cosmetics. From the U.K., STARGAZER was the first original punk rock and gothic makeup line. Prices range from $6 to $8 per item and the colors are extreme! For our moonlit look, stick to blacks, blues, purples and silvers. Overseas service is truly excellent so don't be afraid to order!